Western Australian Exploration Projects
Anson has a portfolio of three highly prospective base metals and critical metals exploration projects covering a total of 458km² in the Yilgarn Craton of Western Australia.
Western Australian project portfolio location map in the Yilgarn Craton.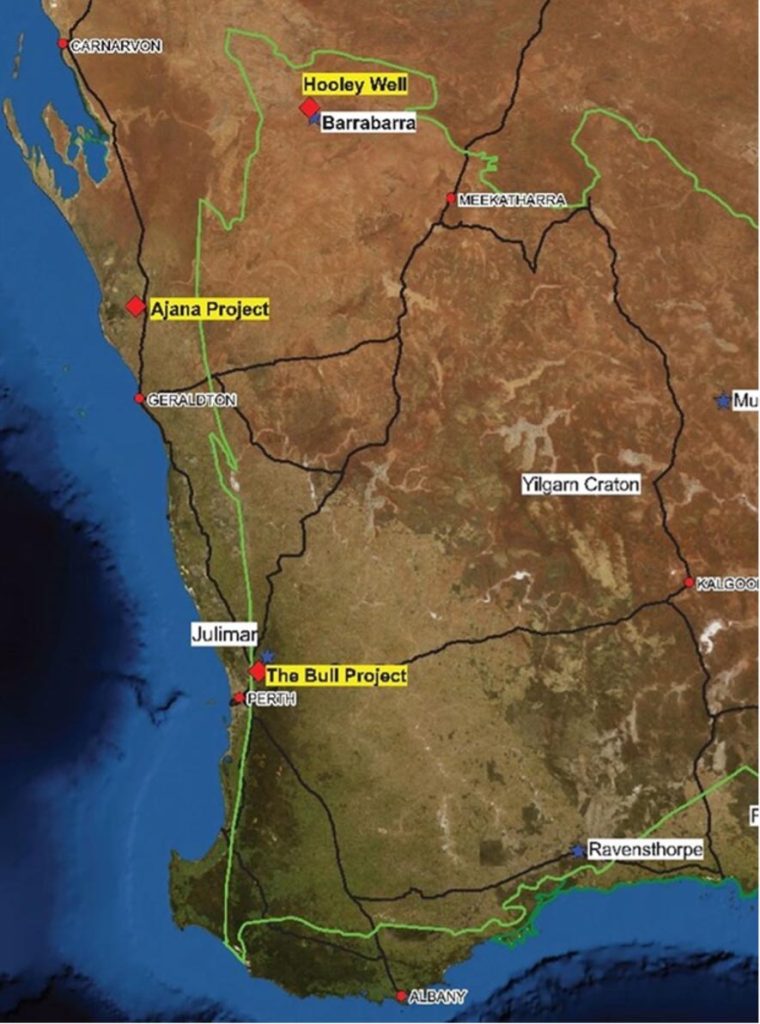 Bull Nickel-Copper-PGE Project
The Bull Project covers an area 82km² and is located only 35km from the city of Perth in Western Australia. It is situated immediately adjacent to Chalice Mining Limited's (ASX: CHN) world-class Julimar Ni-Cu-PGE Project.
The Bull Project has not been previously explored for Ni-Cu-PGE's and has a magnetic signature similar to that of the Julimar Project. Rock chips and assays have confirmed the presence of surface mafic rocks similar to those found at Julimar.
The Project is well located relative to key infrastructure, including highways, rail, power and port facilities.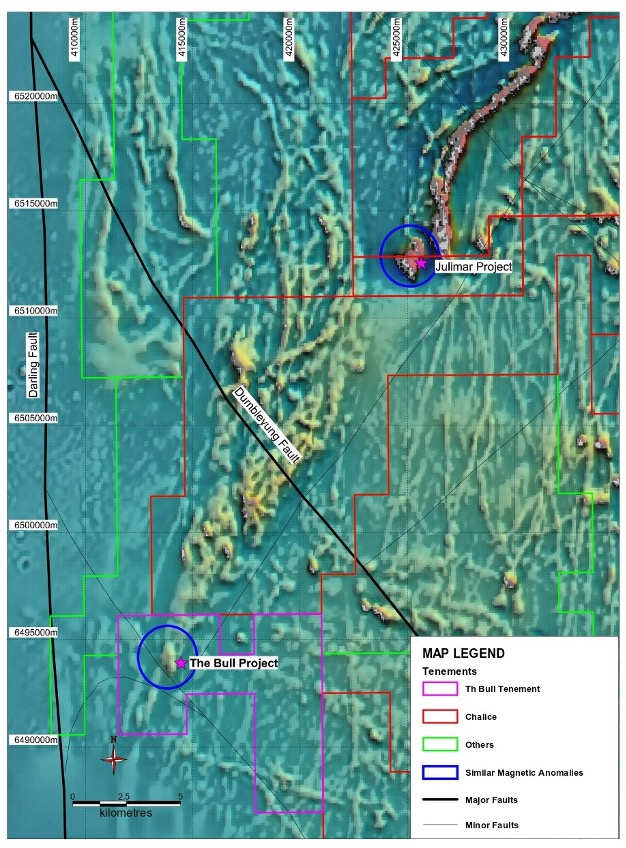 TMI image showing location of the Bull Project and the associated magnetic signatures in relation to Chalice Mining's Julimar Project.
The Ajana Project
The Ajana Project is located in the mid-west region of Western Australia, 130km north of the regional city and port of Geraldton. The region is a proven, established mining province for zinc, lead and silver.
The Project covers an area of 222km², and the prospective ground within the Project area (on tenements E66/89 and E66/94) is dominated by the Northampton Metamorphic Complex. Historical exploration in the area has focused on lead and zinc, and the Project area contains several historic copper, lead and silver producing mines that date back to 1850.
The Mary Springs tenement contains a JORC 2012 Mineral Resource estimate. The global Indicated and Inferred Resource estimate is 390,000 tonnes grading at 6.5% Lead (Pb). See table below.
Zones of lead-zinc-copper-silver rich mineralisation were intersected in drilling but were not included in the Resource. Further drilling may enable the zinc, copper and silver bearing zones to be included in a future Resource.
Category

Indicated

Inferred

Total

 

BCM

Tonnes

% Pb

BCM

Tonnes

% Pb

BCM

Tonnes

% Pb

+ 1% Pb

80,000

240,000

6.6

50,000

150,000

6.2

130,000

390,000

6.5
Mary Springs JORC 2012 Mineral Resource Estimate.
Hooley Well Cobalt-Nickel Laterite Project
The Hooley Well Project is located 800km north of Perth and 300km north-east of Geraldton in Western Australia. It comprises three tenements (E9,2218, E9/2219 and E9/2462) and covers a total area of 154km², within the highly prospective West Yilgarn Ni-Cu-PGE Craton.
Historic, shallow drilling on tenements E9/2218 and E9/2219 intersected nickel and cobalt laterites. There may also be possible primary nickel sulphides (identified by IP response) at depth.
The Project contains extensive nickel, cobalt and chromite mineralisation over an area of 1.5km x 0.8km. Highlight results from historic drilling are shown below.
HAC004, 22m @ 0.97% Ni & 0.06% Co & 1.05% Cr

4m @ 1.41% Ni & 0.11% Co & 1.99% Cr

HAC003, 33m @ 0.5% Ni & 0.04 % Co & 0.55% Cr

8m @ 0.84% Ni & 0.10% Co & 0.22% Cr
The Hooley Well Project may also be prospective for Rare Earth Element (REE) mineralisation. There is a REE Mineral Resource in the area east of the Hooley Well tenements, and REE mineralisation has also been recorded in drillholes adjacent to the western side of the Hooley Well tenements.
Competent Person's Statement
The information note above that relates to exploration results and geology for the geological projects is based on information compiled and/or reviewed by Mr Greg Knox, a member in good standing of the Australasian Institute of Mining and Metallurgy. Mr Knox is a geologist who has sufficient experience which is relevant to the style of mineralisation under consideration and to the activity being undertaken to qualify as a "Competent Person", as defined in the 2012 Edition of the Australasian Code for Reporting of Exploration Results, Mineral Resources and Ore Reserves. Mr Knox has reviewed and validated the metallurgical data produced by Lilac Solutions and consents to the inclusion in this announcement of this information in the form and context in which it appears. Mr Knox is a director of Anson and a consultant to Anson.
Forward Looking Statements
Statements regarding plans with respect to Anson's mineral projects are forward looking statements. There can be no assurance that Anson's plans for development of its projects will proceed as expected and there can be no assurance that Anson will be able to confirm the presence of mineral deposits, that mineralisation may prove to be economic or that a project will be developed.