Green River Lithium Project
Anson staked the Green River Lithium Project in January 2023. It is located 50 kilometres northwest of the Company's flagship Paradox Lithium Project, and represents a strategic addition to its lithium asset portfolio in the Paradox Basin in Utah, USA.
The Project comprises a total of 1,251 placer claims over a total area of 106.2km2 and exhibits positive geological, metallurgical and structural similarities with the Paradox Project.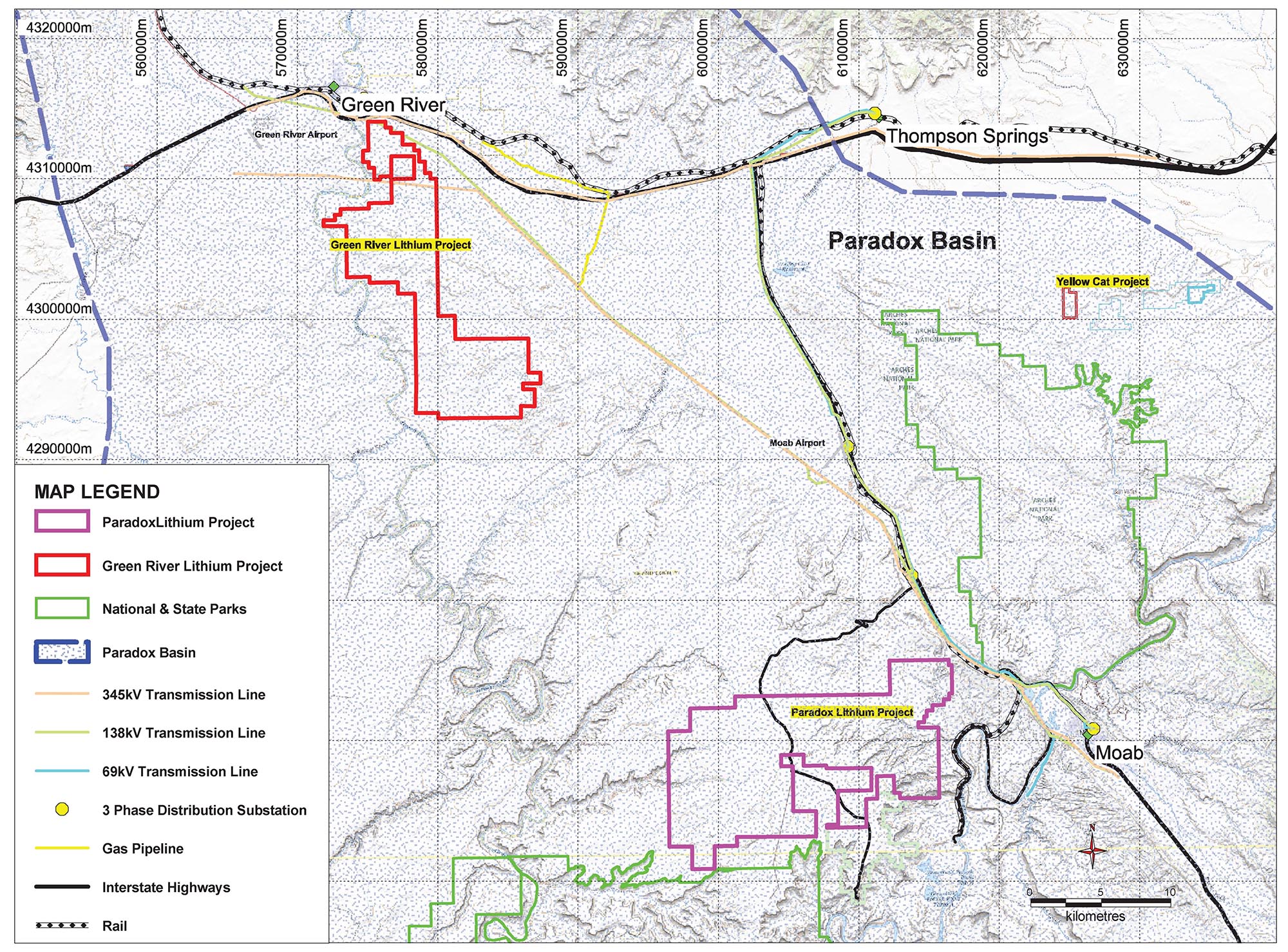 Location of Green River Lithium Project and Paradox Lithium Project in the Paradox Basin, Utah, USA.
The Green River Project has major infrastructure in place, including proximity to major road and rail networks, power and water. The sub-lease agreement for the supply of water for future production at the Paradox Project allows for diversion from both the Colorado River and Green River; the Project is located close to the Green River.
Anson plans to adopt a similar exploration strategy at the Green River Project as it successfully adopted at the Paradox Project by re-enter existing oil wells to define lithium brine resources.
The Green River Project has a substantial Exploration Target of; 2.0 billion tons to 2.6 billion tons of brine, grading 100 – 150ppm Li and 2,000 – 3,000ppm Br1
Lithological Unit

Range

Brine Tonnes (Mt)

Li Grade (ppm)

Br Grade (ppm)

Li

(t)

Li₂O₃

(t)

Br

(t)

Mississippian

Minimum

2,000

100

2,000

200,000

1,064,600

3,200,000

& Clastic Zones 

Maximum

2,600

150

3,000

390,000

2,075,900

7,800,000
Exploration Target calculations for the Green River Lithium Project – for the combined Mississippian Leadville and Pennsylvanian Paradox Units.
1The Exploration Target figure is conceptual in nature as there has been insufficient exploration undertaken on the Project to define a mineral resource for the Leadville. It is uncertain that future exploration will result in a mineral resource.
Anson plans to conduct a drilling and sampling program of existing wells within the Project area, with a view to including the results in a Mineral Resource estimate, designed to contribute significant additional Resources to Anson's global Paradox Mineral Resource base.
The table below outlines the key similarities between the Green River Project and Paradox Project. 
| | | | |
| --- | --- | --- | --- |
| | Rock Unit | Paradox Lithium Project | Green River Lithium Project |
| Basin | | Paradox | Paradox |
| Claims | | 1,846 | 1,261 |
| Area (hectares) | | 16,631 | 10,620 |
| Exploration Target | | 1.12 – 2.72 Mt LCE1 | 1.06 – 2.07 Mt LCE2 |
| Location | | Abuts Colorado River | Abuts Green River |
| Infrastructure | | Highway, Rail, Electricity | Highway, Rail, Electricity, Gas |
| Historic Drillholes | | Drilled through the Mississippian | Drilled into the Mississippian |
|   | | Chips, cuttings, core | Chips, cuttings, core |
| Unit Depth (ft) | CZ 31 | 6,300 | 7,600 |
|   | Mississippian | 8,000 | 8,800 – 9,000 |
| Rock Units | CZ 31 | Anhydride, Black shale, Dolomite | Anhydride, Black shale, Dolomite |
|   | Mississippian | Dolomite, Limestone | Dolomite, Limestone |
| Thickness (ft) | CZ 31 | 20 | 23 |
|   | Mississippian | 400 | 3003 |
| Porosity*(%) | CZ 31 | 18 – 25 | ~20 |
|   | Mississippian | 8 – 14 | 10 – 14 |
| Pressure (psi) | CZ 31 | 4,500 – 5,000 | 4,500 |
|   | Mississippian | 4,000 – 4,500 | 4,500 – 5,500 |
| Flow | CZ 31 | Artesian | Not recorded |
|   | Mississippian | Flowed up the tubing | Flowed up the tubing |
Table showing the similar geological characteristics between the Anson lithium brine projects.
1 Only in eastern portion of project. 2Based on area and recorded rock units, thickness & porosity (see Table 1) 3 End of Hole (not drilled through unit)
Green River Project Background
The  Green River Project overlays many historically plugged and abandoned oil and gas wells, which may be re-entered at a much lower cost than drilling new holes. Many of these wells have been drilled into the thick Mississippian units. Drilling has shown that the geology and geological structures of the area is similar to that of the Paradox Project. Brines have been recorded in the Mississippian units and numerous Paradox clastic zones, including Clastic Zone 31.
Historical Drill Stem Tests (DST) carried out in wells in the Green Valley area have recorded pressure of up to 4,700psi – similar to the pressures in the Paradox area. In some cases, brine has flowed up the tubing which indicates that the rock units have a high porosity.
The Project area is suitable for both the extraction of brine and disposal of waste brine into a desirable shallower formation, which has high porosity and lower pressure.
The thicknesses of the Mississippian units within the Project area indicates that it is a very large reservoir and combined with the Clastic Zone horizons it is anticipated that the Exploration Target which may be readily converted to a JORC Mineral Resource.
Competent Person's Statement
The information note above that relates to exploration results and geology for the geological projects is based on information compiled and/or reviewed by Mr Greg Knox, a member in good standing of the Australasian Institute of Mining and Metallurgy. Mr Knox is a geologist who has sufficient experience which is relevant to the style of mineralisation under consideration and to the activity being undertaken to qualify as a "Competent Person", as defined in the 2012 Edition of the Australasian Code for Reporting of Exploration Results, Mineral Resources and Ore Reserves. Mr Knox has reviewed and validated the metallurgical data produced by Lilac Solutions and consents to the inclusion in this announcement of this information in the form and context in which it appears. Mr Knox is a director of Anson and a consultant to Anson.
Forward Looking Statements
Statements regarding plans with respect to Anson's mineral projects are forward looking statements. There can be no assurance that Anson's plans for development of its projects will proceed as expected and there can be no assurance that Anson will be able to confirm the presence of mineral deposits, that mineralisation may prove to be economic or that a project will be developed.