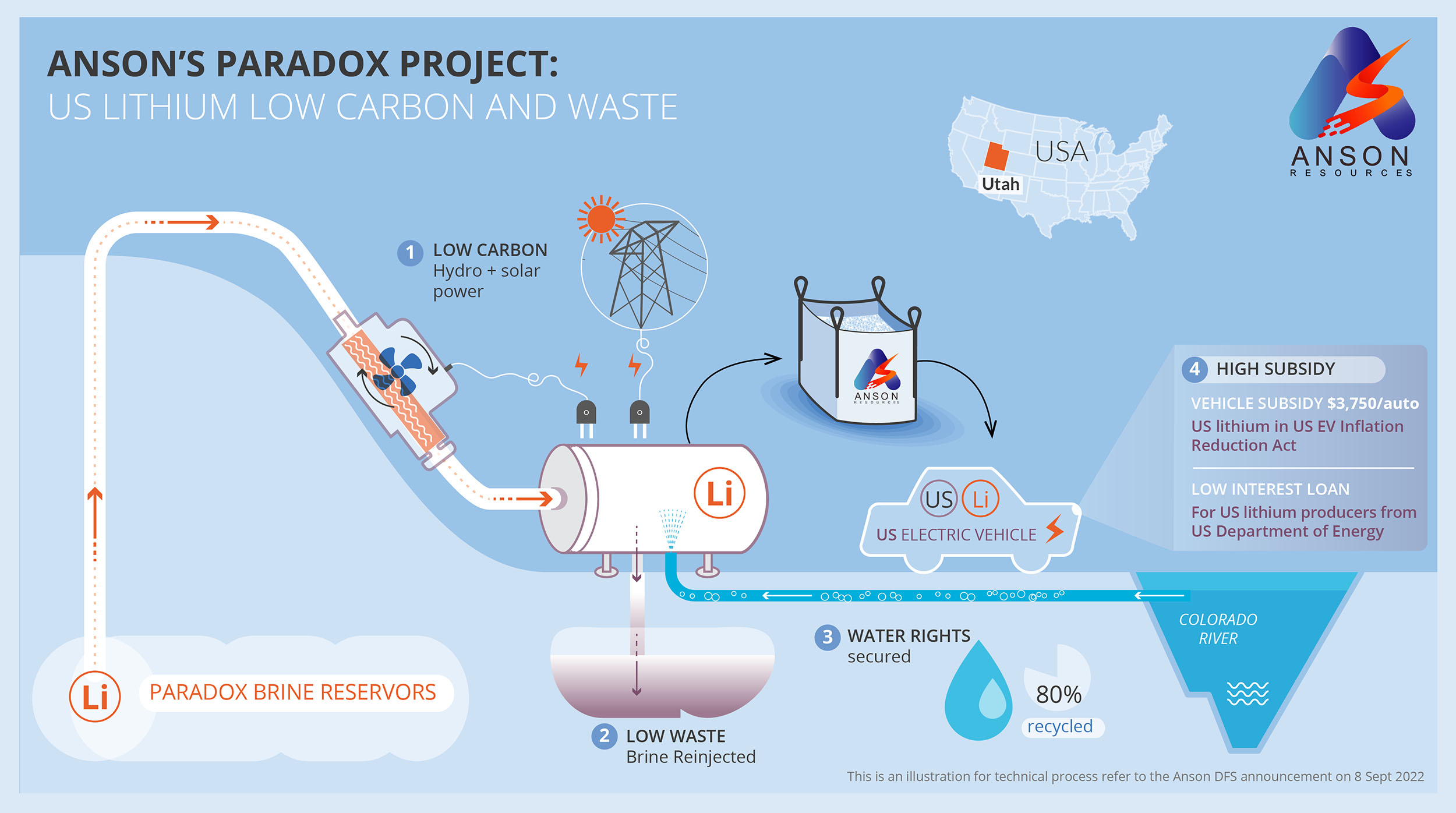 The Paradox Lithium Project is Anson's core asset. It is an advanced development project, covering an area of 167km2 in the Paradox Basin in southern Utah, in the USA.
Anson is focused on developing the Paradox Project into a significant lithium producing operation, to provide high-quality lithium carbonate for the rapidly growing EV battery market:
Commercially proven Direct Lithium Extraction (DLE) technology: Sunresin's technology is producing 32,000 ton per year of lithium carbonate at 7 projects.
Low carbon and waste: Hydro and solar energy power the project and brine is reinjected underground post lithium extraction.
High subsidy for consumers and project loans: US lithium producers can access low interest loans from the Department of Energy and consumers purchasing an EV with US sourced lithium batteries receive a $3,750 subsidy.
DFS confirms strong project economics: Low-cost, long-life project with material upside to include expand lithium production and bromine production.
Substantial JORC Resource: 04Mt of Lithium Carbonate Equivalent (LCE) and 5.275Mt of Bromine1– Major Resource expansion program underway. 


Definitive Feasibility Study
The September 2022 DFS for Phase 1 of the Paradox Lithium Project confirmed the Project's advanced potential to become a major supplier of high purity, battery grade Lithium Carbonate into the US Electrical Vehicle market.
The DFS proposes that the Project will produce 13,074 tonnes per annum of high purity Lithium Carbonate over an initial 10-year project life, and then produce lower commercial levels up to a production life of 23 years (assuming no further Mineral Resource expansion and that no other extraction wells will come on-line).
Phase 2 development of the Paradox Project is proposed to comprise further substantial increases in lithium production capacity plus bromine production.
Key financial highlights of Phase 1 DFS are presented in the Table below.
Scenario
Pre-Tax (USD)
Post-Tax (USD)
 
NPV (7%)
IRR
NPV (7%)
IRR
Base Case
$1,306m
47%
  $922m
37%
Spot Price Case2
$5,149m
98%
$3,768m
80%
Table: Paradox Lithium Project Phase 1 DFS key financial highlights
Global engineering group Worley Ltd (Worley) was the lead consultant for the DFS and responsible for the Class-3 Estimate of the above-ground facilities.  Capital and operating costs associated with Direct Lithium Extraction technology has been provided by Anson's technology partner, Sunresin New Materials Co. Ltd ("Sunresin").
Key outcomes and parameters of the DFS are presented in the Table below.
| | | |
| --- | --- | --- |
| Production Parameters | Units | Phase 1 |
| Construction Period | Years | 2 |
| Production Rate – Lithium Carbonate | Tonnes per annum | Up to 13,074 |
| Indicated Mineral Resource – Lithium Carbonate | Contained ('000t) | 239 |
| Recovery – direct lithium extraction | % | 91.5 |
| Recovery – carbonation from lithium eluate | % | 88.6 |
| Key Financial Parameters |   |   |
| Capital Cost | $US Million | 495 |
| C1 Operating Costs | US$ / t LCE | 4,368 |
| Price – Lithium Carbonate | $US/tonne | Forecast Curve |
| Revenue | $US Million | 5,080 |
| Annual EBITDA Margin | % | 69 |
| Average annual EBITDA | $US Million | 153 |
| Payback period | Years | 2 |
| IRR Pre Tax | % | 47 |
| IRR Post Tax | % | 37 |
| NPV7 pre-tax (Base Case) | $US Million | 1,306 |
| NPV7 pre-tax (Spot Case) | $US Million | 5,149 |
Table: Paradox Lithium Project key parameters and outcomes
Further details on the Paradox Phase 1 DFS are provided in Anson's ASX announcement of 8 September 2022.
Major Mineral Resource
The Paradox Project hosts a major JORC Mineral Resource of;
1,037,900 tonnes of lithium carbonate equivalent (LCE) and 5,274,900 tonnes of bromine, including;
–  Indicated Resource of 346,109 tonnes of LCE and 1,840,000 tonnes of bromine; and
–  Inferred Resource of 691,800 tonnes of LCE and 3,434,900 tonnes of bromine
Category

Brine Volume

 (Ml3)

Brine Tonnes

(Mt)

Li

(ppm)

Br

(ppm)

Contained ('000t)
LCE
Br2
Indicated
4,350
530
123
3,474
346
1,840
Inferred
8,108
1,038
125
3,308
692
3,434
Resource
12,458
1,568
124
3,364
1,038
5,275
Table: Paradox Lithium Project Total JORC Mineral Resource estimation1.
The Mineral Resource incorporates drilling and sampling by Anson at the Cane Creek 32-1 well and the Long Canyon Unit 2 within the Project area. The Resource also includes significant amounts of other minerals including Bromine (Br2), Boron (Boric Acid, H3BO3) and Iodine (I2)
Resource Expansion Program
Anson is seeking to further expand the Paradox Project's Mineral Resources, by targeted drilling and sampling in the western region of the Project. The results of the 'Western Expansion' strategy are expected to deliver an upgrade to the existing Mineral Resource, which was confirmed from drilling and sampling in the eastern area of the Project. It also plans to define a Mineral Resource at the nearby Green River Lithium Project, which would be added to the Company's global Mineral Resource in the Paradox Basin.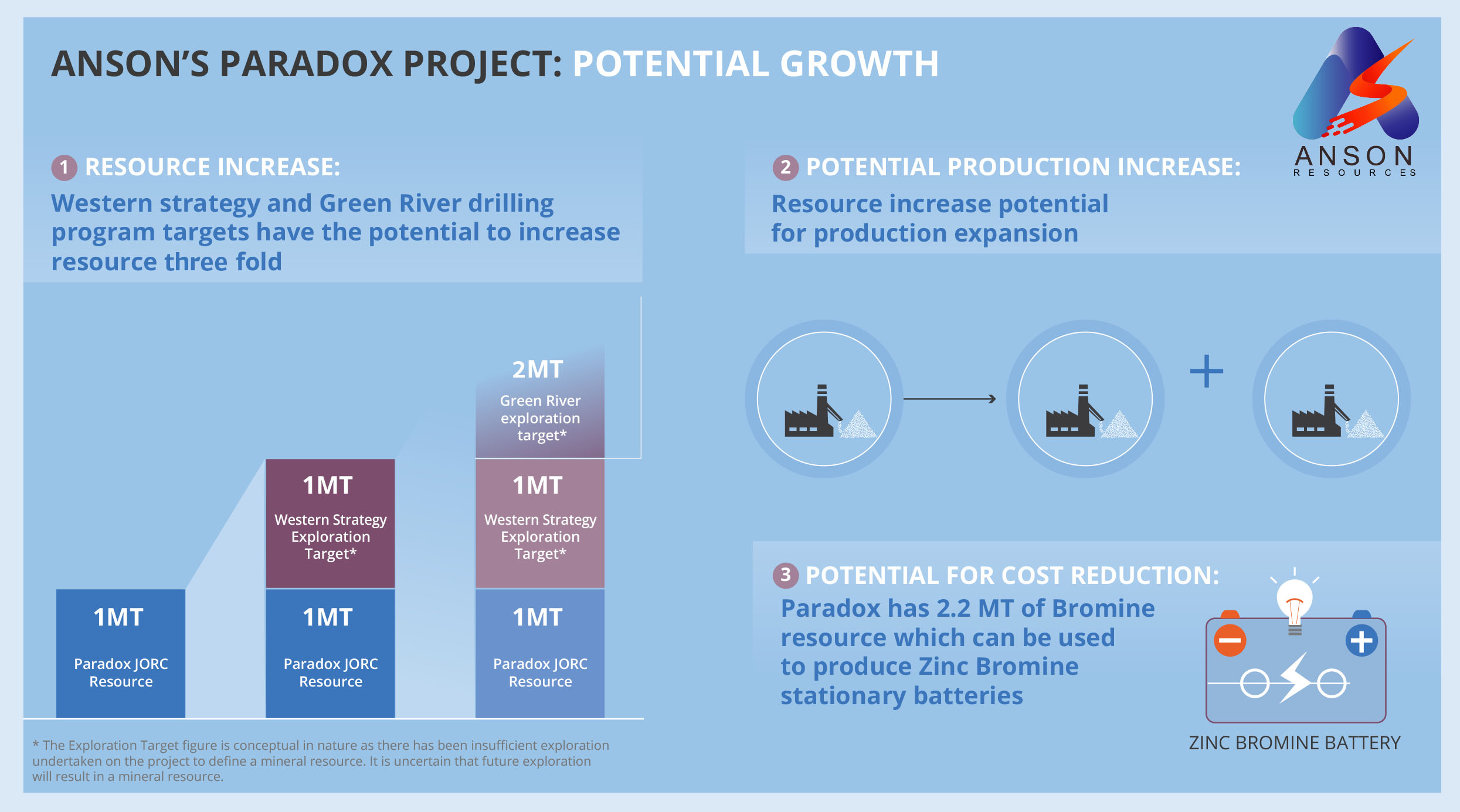 Competent Person's Statement
The information note above that relates to exploration results and geology for the geological projects is based on information compiled and/or reviewed by Mr Greg Knox, a member in good standing of the Australasian Institute of Mining and Metallurgy. Mr Knox is a geologist who has sufficient experience which is relevant to the style of mineralisation under consideration and to the activity being undertaken to qualify as a "Competent Person", as defined in the 2012 Edition of the Australasian Code for Reporting of Exploration Results, Mineral Resources and Ore Reserves. Mr Knox has reviewed and validated the metallurgical data produced by Lilac Solutions and consents to the inclusion in this announcement of this information in the form and context in which it appears. Mr Knox is a director of Anson and a consultant to Anson.
Forward Looking Statements
Statements regarding plans with respect to Anson's mineral projects are forward looking statements. There can be no assurance that Anson's plans for development of its projects will proceed as expected and there can be no assurance that Anson will be able to confirm the presence of mineral deposits, that mineralisation may prove to be economic or that a project will be developed.
[1]  Further details on the Paradox Mineral Resource Estimate are provided in Anson's ASX announcement of 2 November 2022
[2]  Lithium Carbonate Spot Price – US$69,400/t Battery grade EXW China price.  Source – S&P Capital IQ.