Exploring a world-class Ni-Cu-PGE Trend in Western Australia
Anson has established a 458km² tenement portfolio highly prospective for base metals in Yilgarn Craton, Western Australia
The Bull (82km²)
Ajana / Mary Springs (222km²)
Hooley Well (154km²)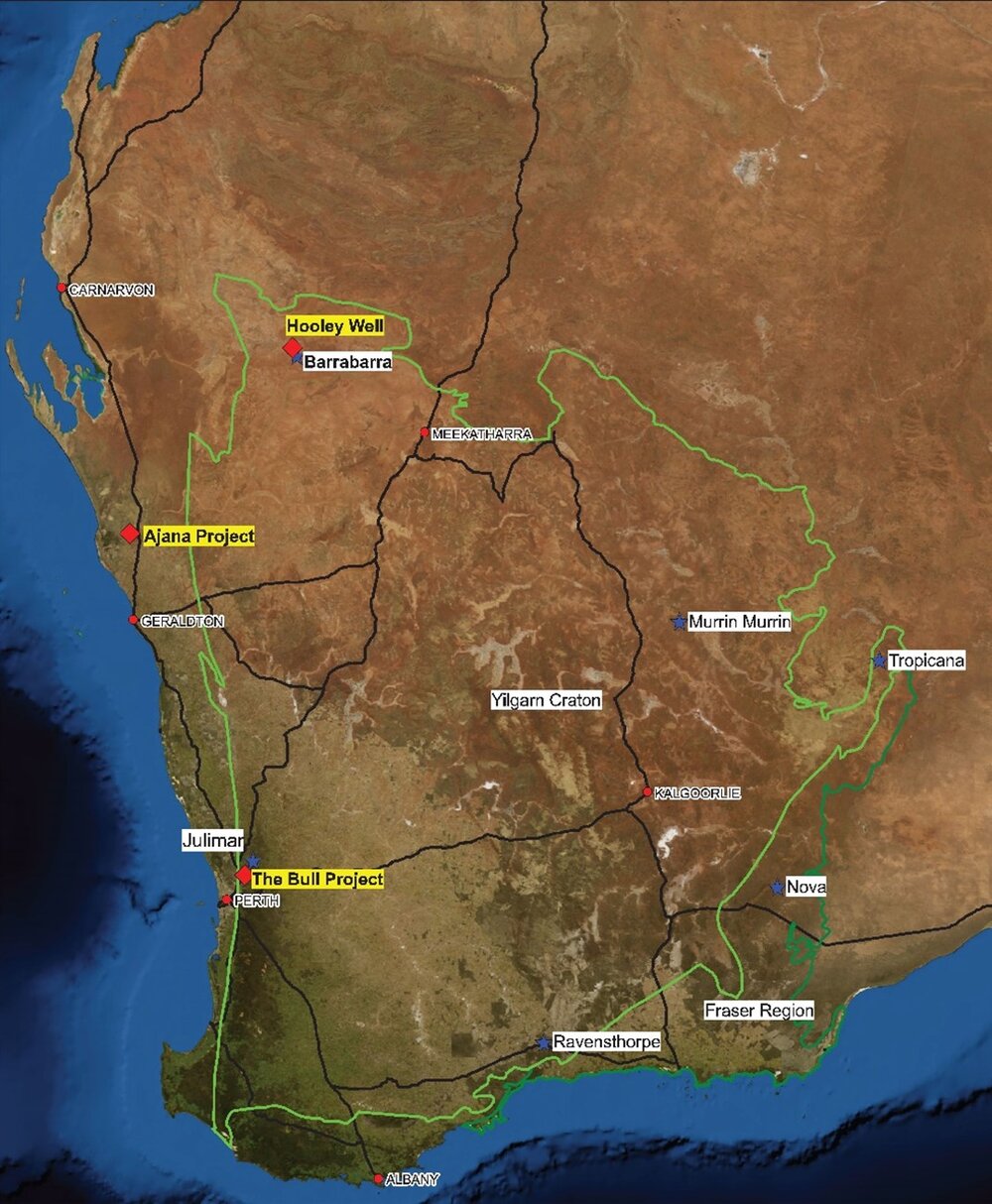 WA portfolio tenement location map
Key points
The total area 82km²
20km south west along strike from Chalice Gold's Julimar Ni-Cu-PGE Project
Not been previously explored for Ni-Cu-PGE's
Magnetic Signature similar to that of Julimar Ni-Cu-PGE deposit
Julimar mineralisation remains open in all directions
Access to major highway, rail, power and port infrastructure
30km north east of Perth, 30 minutes drive from Perth
Rock chipping and assays have confirmed surface mafic rocks similar to those found at Julimar
3 target areas in the main zone identified for future drilling
Land access agreements with property owners completed
Native Title advancing through WA government process
A key focus within the Company's WA portfolio is on advancing exploration at The Bull Project which covers 82km² and adjoins the high-grade Julimar Ni-Cu-PGE discovery made by Chalice Gold Mines Limited (ASX: CHN). With renewed focus on nickel sulphide mineralisation and associated copper and PGE minerals, Anson's WA portfolio holds significant potential and is in a favourable position to benefit from the renewed interest in these minerals.
Anson is closely following the 'proven' exploration strategy used by Chalice Gold Mines to find the world-class Julimar Discovery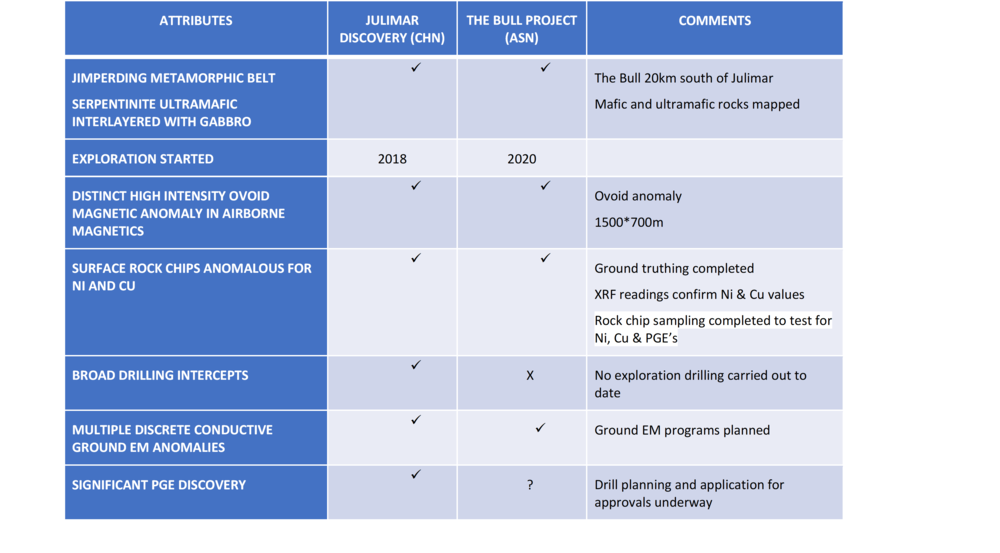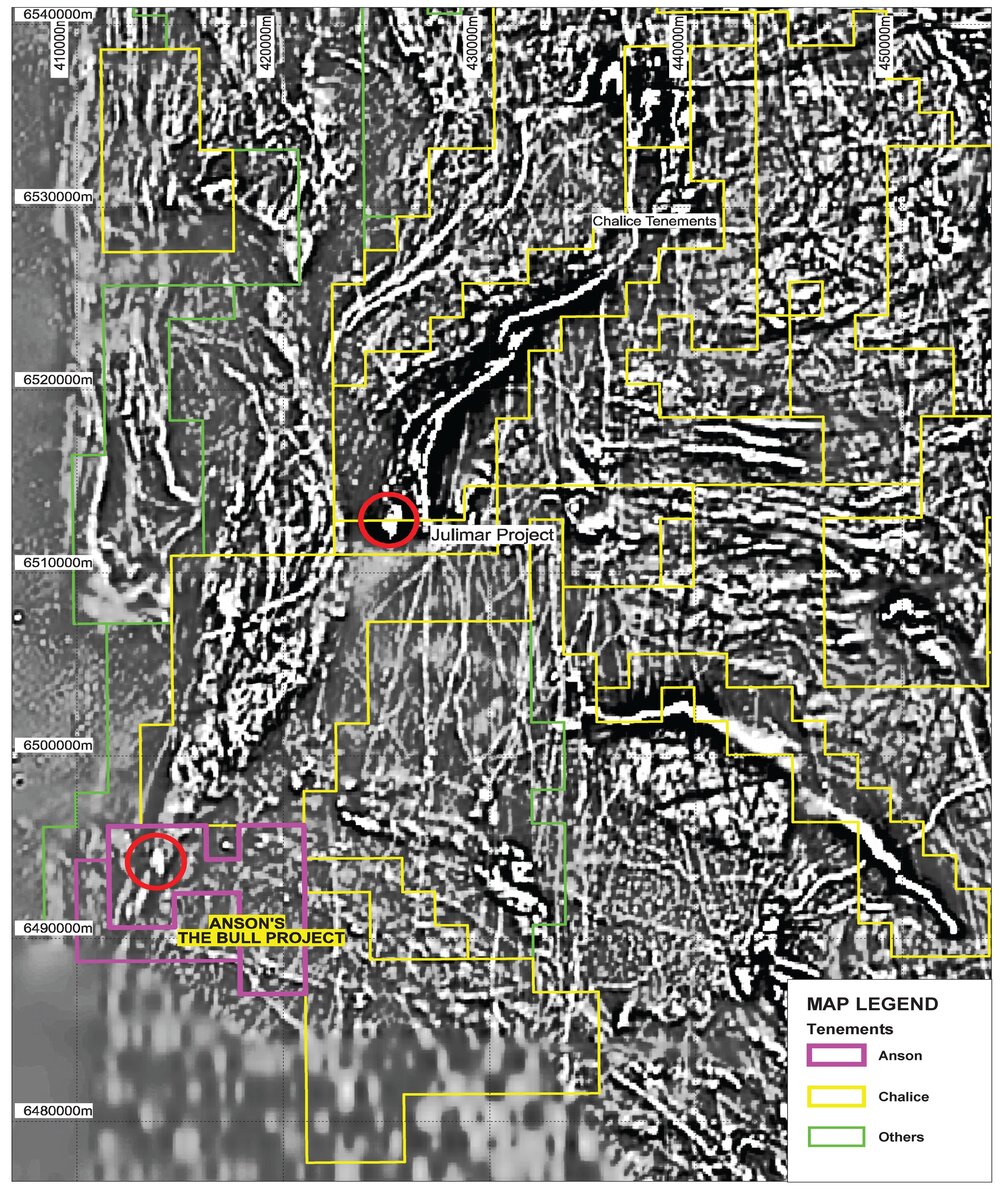 Bull Project Location Map
Ajana / Mary Springs Project
Key points
Total area 222km²
Mary Springs Pb 2012 JORC Pb JORC Resource:

390,000t@ 6.5% Pb
Zn & Ag not assayed in historical drilling
2017 limited drilling program results up to 3% Zn, 26.8% Pb & 15.0/t Ag

Ethel Maude previously mined for Pb but Zn, Cu & Ag not extracted

Up to 68% Zn, 0.60% Pb and 78g/t Ag assayed from historic shaft wall

Surprise Pb production grade 10.5%

Cu visible but no historic assay results identified
The Ajana Project is located in Northampton, Western Australia, a proven and established mining province for zinc, lead, silver and graphite. The project is situated within the prospective historic mining center of Ajana. The tenements, E66/89 and E66/94, and E66/100 (under application) are located 130kms north of Geraldton and on the North West Coastal Highway.
The prospective ground on the 222km² of tenements E66/89 and E66/94 is dominated by the Northampton Metamorphic Complex, which typically hosts graphite mineralisation in Western Australia.

Key points
Total area 154km²
Located in the highly prospective West Yilgarn Ni-Cu-PGE Craton and adjoins Chalice Gold Mines Barrabarra Ni-Cu-PGE Project tenements
Up to 22m 0.97% Ni, 1.08% Cr & 0.06% Co including 8m @ 1.24% Ni & 1.17% Cr from 16m assayed in limited shallow historic drilling programs
Similar magnetic signature to the Julimar high grade Ni-Cu-PGE discovery
Mafic-ultramafic intrusive complex underexplored including three large targets
The Hooley Well Nickel-Cobalt Laterite Project is located 800km north of Perth and 300km east of Geraldton in Western Australia. The granted tenements, E9/2218 and E9/2219, contain historical shallow drilling which has intersected nickel and cobalt laterites. Associated with these laterites are high grade chromium values.
The two Hooley Well tenements E9/2218 (Erong Hill) which is surrounded by E9/2219 (Hooley Well) were granted in 2017 and cover an area of 62km.
The Erong Hill prospect is a mafic-ultramafic intrusive complex confirmed by historic exploration drilling and the Hooley Well prospect has been interpreted as an ultramafic intrusive from historic aeromagnetic surveys. Both are considered to be the conductors. This geology is comparable to the Julimar high grade Ni-Cu-PGE discovery and the Nova-Bollinger, Fraser Range Ni-Cu mine both of which are on the margins of the Yilgarn Craton.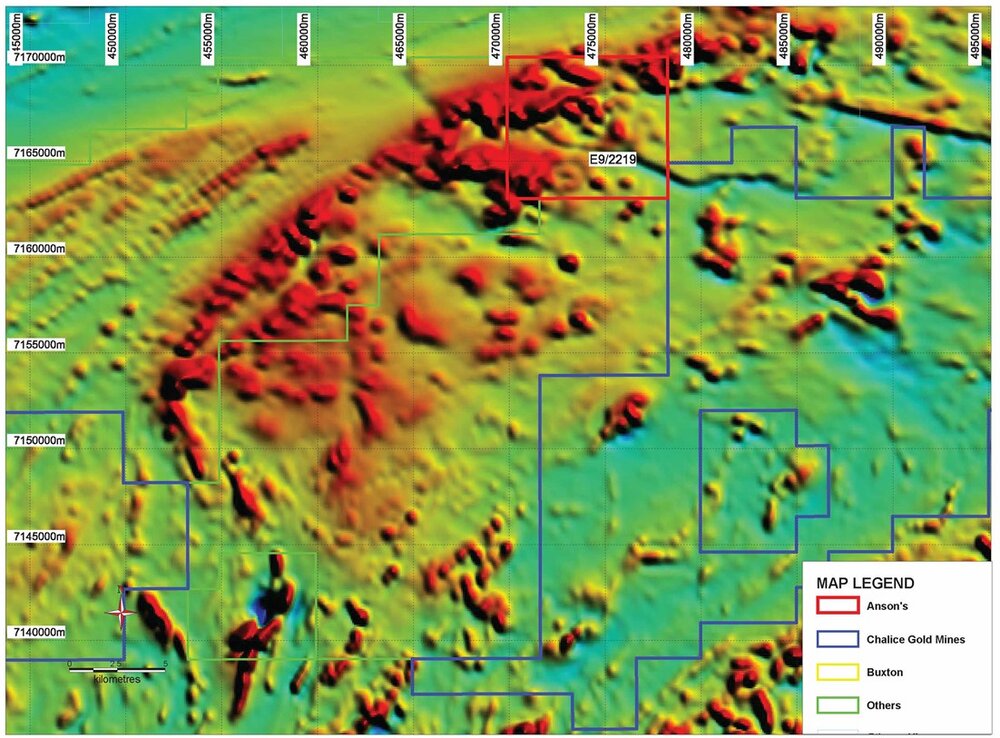 The Hooley Well Project overlaying a TMI image showing a similar magnetic signature to Julimar Project