Paradox Basin Brine Project
Developing a world-class lithium brine project on Tesla's doorstep in the US
Key points
Total area 95 km²
Located in Utah, USA – well positioned to avail of the push into electric vehicles and battery storage from local sources in the US
Dual product project – NaBr and lithium – leveraging common plant infrastructure
Stage 1 Li/NaBr PEA estimates NPV of $451m, after tax IRR 31%
JORC Resource 186,000 tons LCE
Project utilizes direct lithium extraction processes
Bulk Raw material test work complete and both samples of lithium carbonate & lithium hydroxide meet or exceed "battery grade" standards
Li product battery performance test work underway with Novonix Limited for lithium hydroxide and lithium carbonate
Engineering studies advanced – NaBr PEA completed by Millcreek and PFS in process by Worley
Existing infrastructure including electricity, gas, road and rail are available and supply discussions & engineering studies commenced
Water required for production to be recovered from brine
Lease for processing plant signed and geotechnical survey's underway
Waste brine to be returned to sub-terranean salt clastic zones
Anson's flagship project is its Paradox Basin Brine Project in Utah, USA for which Anson is advancing engineering studies as it develops the project.
Using innovative direct lithium extraction technology and conventional flow sheets for all other processing, Anson will extract lithium and bromine from brine rapidly to produce high purity products. No evaporation ponds are required in the process, saving on CAPEX, OPEX, space, and processing time.
Anson is advancing the recovery and refinement of other chemicals to produce additional high-value products including iodine and boron also contained in the brine. The recovery and processing of these chemicals would provide multiple revenue streams for Anson.
Paradox Brine Project Phase 1 PEA Key financial highlights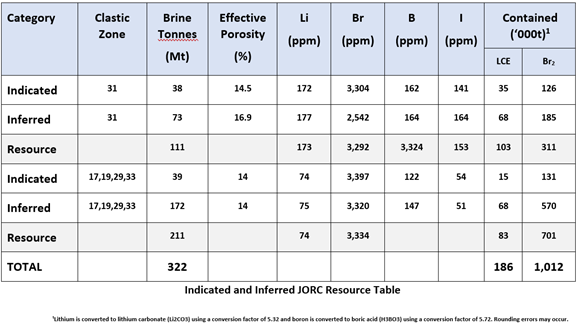 Significantly Increased Exploration Target
In Q2 2021, Anson reported that following an extensive review of historic data bases from previous exploration programs within the Paradox Brine Project area, a massive brine aquifer had been identified in the Mississippian Leadville Formation aka Leadville Limestone (Leadville) approximately 1,500 feet below the current target clastic zones that are located within the Paradox Formation at approximately 6,500 feet. These include the clastic zones 17,19, 29, 31 and 33 that have been used to calculate the current Indicated and Inferred JORC resource estimate.
The Exploration Target for the Leadville supersaturated brine consists of 1.3Bt – 1.8Bt grading 80 – 140ppm Li and 2,000 – 3,000ppm Br, see Table 1 below: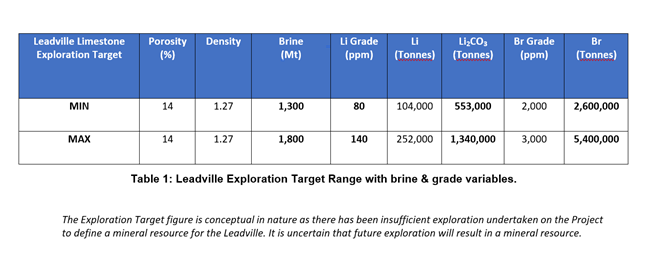 Test Work and Engineering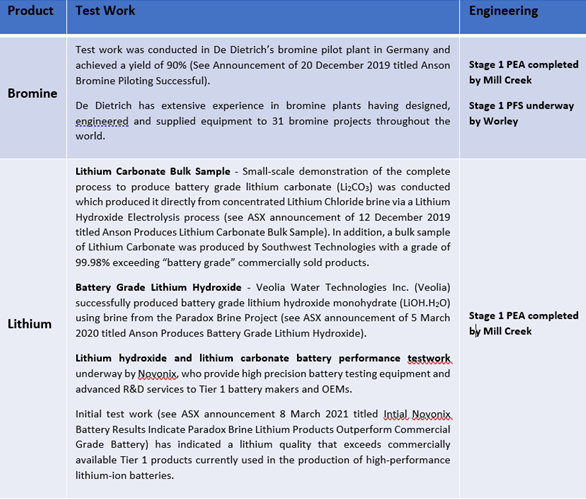 Paradox Brine Project: Br/Li Flow Sheet

Competent Person's Statement
The information note above that relates to exploration results and geology for the geological projects is based on information compiled and/or reviewed by Mr Greg Knox, a member in good standing of the Australasian Institute of Mining and Metallurgy. Mr Knox is a geologist who has sufficient experience which is relevant to the style of mineralisation under consideration and to the activity being undertaken to qualify as a "Competent Person", as defined in the 2012 Edition of the Australasian Code for Reporting of Exploration Results, Mineral Resources and Ore Reserves. Mr Knox has reviewed and validated the metallurgical data produced by Lilac Solutions and consents to the inclusion in this announcement of this information in the form and context in which it appears. Mr Knox is a director of Anson and a consultant to Anson.
Chemical Engineer's Statement
The information in this announcement that relates to lithium extraction and processing is based on information compiled and/or reviewed by Mr. Alexander Grant. Mr. Grant is a chemical engineer with a MS degree in Chemical Engineering from Northwestern University. Mr. Grant has sufficient experience which is relevant to the lithium extraction and processing undertaken to evaluate the data presented.
Forward Looking Statements
Statements regarding plans with respect to Anson's mineral projects are forward looking statements. There can be no assurance that Anson's plans for development of its projects will proceed as expected and there can be no assurance that Anson will be able to confirm the presence of mineral deposits, that mineralisation may prove to be economic or that a project will be developed.
Historical Results
A Competent Person has not done sufficient work on historical exploration results to disclose the Exploration Results in accordance with the JORC Code 2012; and it is possible that following further evaluation and/or exploration work that the confidence in the prior reported Exploration Results may be reduced when reported under the JORC Code 2012. Nothing has come to the attention of Anson that causes it to question the accuracy or reliability of the former owner's Exploration Results. Anson has not independently validated the former owner's Exploration Results and therefore is not to be regarded as reporting, adopting or endorsing those results.